a gift for herself, a busy mommy
Moms are masters at putting others ahead of themselves. The kids need money for school or medical bills, there's something falling apart in the house, one of the pets need to go to the vet, whatever, moms tend not to splurge on themselves. This month I put myself first with an Elegance gift box from a*pour toi, which translated means, "A Present for you." This isn't just any gift basket. It's designed to nurture relationships through a personalized, high-end healthier gourmet gift box with a French touch.
Saint Aubert Raspberry filled biscuits—moist, tasty galettes (cakes) filled with apple and raspberry puree. These were a favorite with my kids. I had planned to eat one for breakfast the morning after I opened the package. Instead, I went into the kitchen to find they had all been eaten.
Saint Aubert Palets Bretons- – the French equivalent of Shortbread cookies.
2 Calissons d'Aix—These were my personal favorites even though I had to split them between five people. They reminded me of tiny cheesecakes with a crisp wafer crust, a filling of Provencal melon and orange peel and a sweet topping made of royal icing. Yum! I had never tasted anything quite like this before.
San Francisco Granola with raisins—This crunchy chocolate granola was handmade in (where else?) San Francisco.
Almondina Yogurt Covered Biscuits—These chocolate treats reminded me of biscotti. The white yogurt topping covering on side added a hint of creamy sweetness. My son, who was taste testing and was unsure he would like these, stated, "These are good, especially with this topping."
Raspberry Caramels—I am a fan of caramel but had never tasted any flavored with raspberry before and wasn't sure what to expect. They had a hint of raspberry, enough to give a pleasant flavor but without being overwhelming.
Milk Chocolate Covered Hazelnuts –Hazelnuts coated with smooth milk chocolate. I was only able to snag one of these before they disappeared. They were obviously a kid favorite.
Julie Hasson, the founder of a* pour toi, has a fashion for developing "gifts with caring." Not content with normal gift boxes, she is passionate about providing elegant gift boxes which have products that can be eaten by people with special dietary needs. She has definitely succeeded. The products inside our box were incredibly fresh and the packaging was beautiful. I had planned to hide the box and dole out treats, but all bets were off when my children saw me taking pictures of the contents. They had to sample everything and give me commentary on their favorites. Needless to say, they have now developed a taste for French treats.
Interested in learning how to purchase an
a* pour toi
box for yourself or for a loved one? Check out their site and visit their
facebook page
.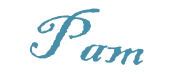 We received an A Pour Toi gift box to sample. All opinions are our own.

Read the original version: Just like June
---
Interview by Nicole Williams →
Leave a Reply